Belami Online Review
$34.95
Video & Photo Quality -

100%

Unique Content -

97%

Site Offering -

100%

Membership Cost -

93%

Update Schedule -

100%
Summary
George Duroy's Bel Ami Online is a treasure trove of stunning twinks, attractive jocks and attractive hunks in a combination of hardcore sex scenes and sensual solo performances. This site is a must–see for any fan of adult entertainment; it features exclusive content of excellent quality, and the more than 2,900 videos can be downloaded. Plus, new videos, models and picture sets are added 7 days a week. The models are predominantly from Europe, so you are sure to see plenty of uncut cocks!
Pros
Exclusive content
Stunning Euro jocks and twinks
Lots of uncut cocks
Videos are downloadable (no DRM used)
5 to 6 videos added each week
Most videos are very high quality
Site and videos are mobile compatible
Cons
Oldest vids were removed from site
Comments Rating
( reviews)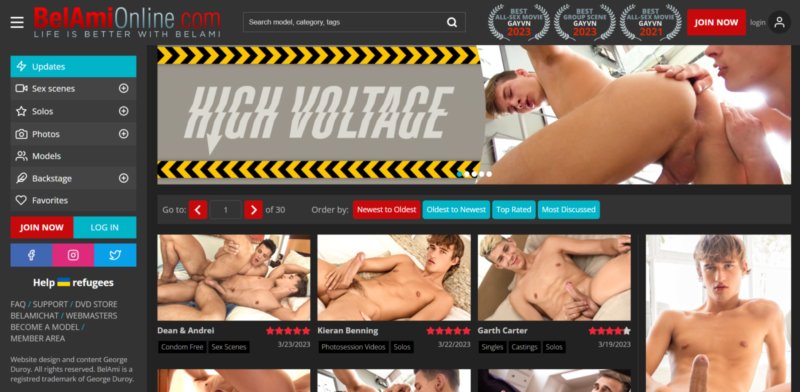 Bel Ami Online is a pioneering producer of high-grade twink and jock gay porn, having launched nearly a quarter century ago. The website's tour page offers sizzling previews of the material, and it doesn't disappoint; the site lives up to its impressive reputation with its production values. The videos include great close-ups of the action, including hardcore penetration, breeding and cumshots, and more recently Bel Ami has added "condom-free" scenes featuring bareback sex.
At the heart of their catalogue are the bevy of beautiful Slovakian, Hungarian, and Czech models, aged 18 to 25, who could easily pass for mainstream models. They boast an array of uncut cocks, many of them huge, like Trevor Yates and Joel Birkin. The Models page currently lists 300+ guys, but that's just the tip of the iceberg; with an estimated roster of over 1,000 models, Bel Ami is an embarrassment of riches. To top it all off, Bel Ami and Sean Cody recently co-produced a series of scenes shot in Spain, culminating in an epic 10-man orgy; those are also available here.
BelAmi is renowned for premiering new scenes before they can be found on DVD. These are some of the costliest gay porn videos on the market, often filmed in exotic locations with stunning models. Though the latest films appear to take place in various bedrooms, living rooms, showers and even outdoors, there are episodes dating back to 2012. Anything before this has been removed, but there is no shortage of fresh content added daily. BelAmi guarantees to have something new every single day.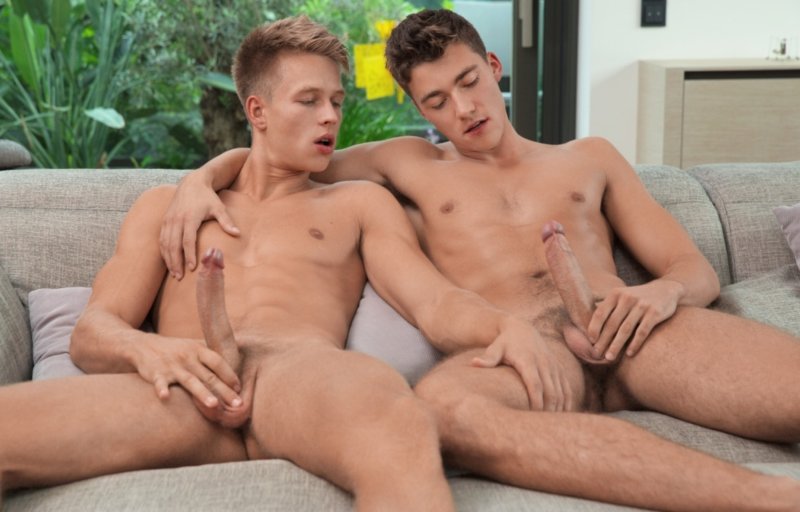 Site Video & Photos
Bel Ami currently provides 2,973 videos in MP4 format, with 1,703 hardcore scenes, 1,009 solos, and 261 backstage videos that are mostly exclusive. The most recent downloads boast impressive quality with dimensions up to 1440×816, as well as two smaller sizes; earlier scenes have dimensions of 960×544 and 640×360, with good quality all round. Stream the videos on any device, as the player on the website adjusts to fit your screen size, and it worked well on mobile phones, tablets, and a 27-inch desktop monitor, showing videos as large as 1476×832.
And that's not all: Bel Ami also offers 773 exclusive photo sets, divided into four categories – Pin-Ups, Couples, Action Pictures and Art Collections – with the Photo Flashbacks option removed. The digital stills are expertly posed and lit, emphasizing the models to perfection. You can expect picture sizes up to 667×1017 (portrait) and 1135×774 (landscape). Moreover, each episode page includes a set of screencaps. Download the sets in zip files for high resolution, or right-click and save to get the individual images. The picture viewer has forward and back navigation, but no slideshow. Finishing off, you can toggle hi-res streaming if it isn't already enabled.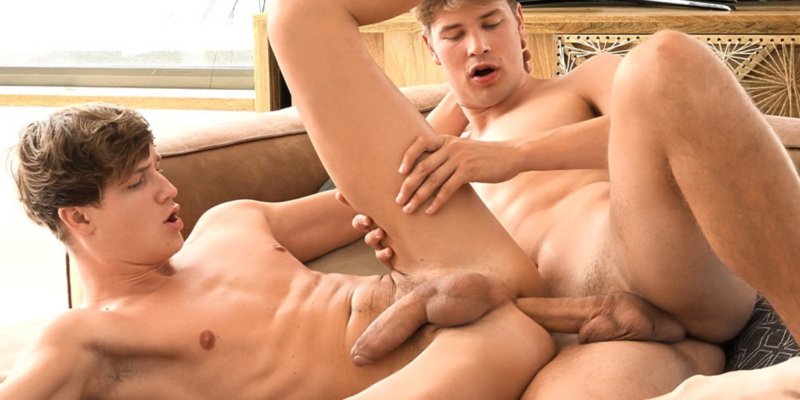 Site Updates
Updates are always something to look forward to on Bel Ami. Everyday, something new is added – it could be a video, a picture set, or a model that is being featured. This past week, the site has added three action videos, one solo jackoff session, a backstage video, a video of a photo shoot, and one picture set. There's constantly something new for members to discover.
One thing that is especially notable about Bel Ami is the way they interact with their members. Updates and models can both be voted on and comments can be left. The forum, which is listed as 'Discussion' on the navigation bar, is quite active and the Bel Ami staff, including George Duroy, are known to get involved and take notice of what is being said. Some people on the forum have become friends and there's usually plenty of conversation about the site's models and content.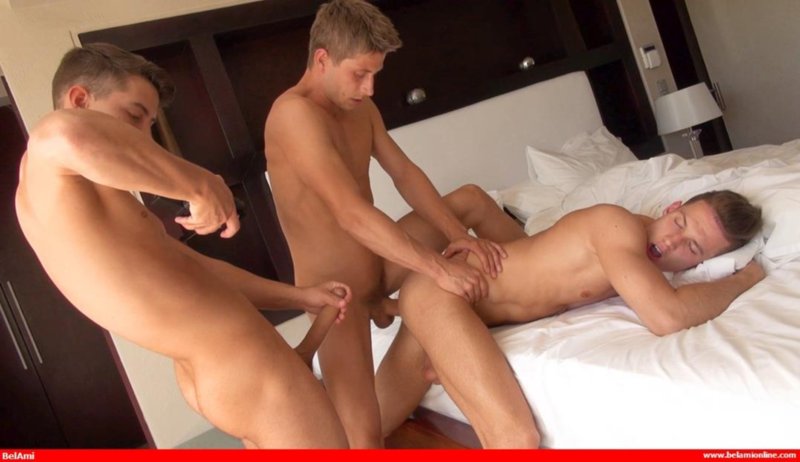 Site Issues
Be aware that when you sign up to Bel Ami's website, there are two pre-checked offers. The first one is for Freshmen, which is another one of their sites, while the second offers you a free account with BelAmi Chat, their webcam site. However, you should be aware that if you use this option, you may be sent frequent emails prompting you to spend money. Both of these offers are easy to opt out of. Moreover, there are ads for Freshmen and BelAmi Chat on the homepage, and clicking either will take you to those sites, where you may need to join or load up your account with tokens to access the content. Additionally, there is a daily download limit of 20 GB; once this has been reached, you can only stream content until the next day.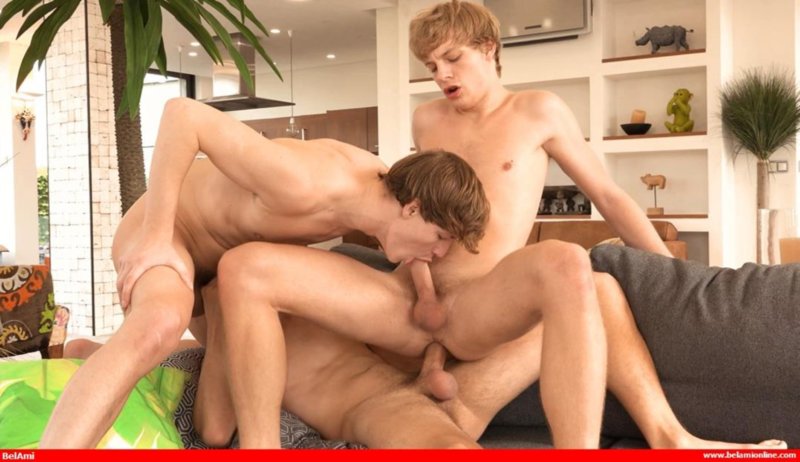 Membership Cost of BelAmi Online
Monthly: $34.95 (recurring at $29.95 every 30 days)
One Month: $49.95 (not recurring)
Quarterly: $79.95 (recurring at $29.95 every 30 days)
Yearly: $279.95 (recurring at $29.95 every 30 days)
Review Summary
Bel Ami Online is setting the bar for premier gay porn that looks great and stars some of the sexiest jocks and twinks around. With 2,973 videos, many of them featuring uncut cocks, there's no shortage of content to choose from, and the streaming is mobile compatible for you to watch on the go. But don't take our word for it – the site also offers a discussion forum and comment section to get the member's perspective. Plus, backstage videos offer a glimpse into the life of the models, from throwing snowballs to interviews with the stars. We love the variety of college-aged, European boys that appear in the hardcore and solo scenes, making Bel Ami Online one of our top picks in the world of gay porn; there's nothing else quite like it!