Video & Photo Quality -

85%

Unique Content -

70%

Site Offering -

95%

Membership Cost -

95%

Update Schedule -

95%
Summary
BoyFun provides twinks, jocks, and a variety of European boys from 18 to 24 years old in solos and hardcore scenes. All the recent videos are bareback, with slim, smooth bodies and uncut cocks. This site features 5,475+ exclusive videos that are downloadable, as well as streaming options for mobile devices. With three weekly updates and a bonus site, you'll also receive feeds and bonus videos. BoyFun is one of the leading twink sites.
Pros
Exclusive Twink content
Hot guys 18 to 24 years of age
Videos are downloadable
Uncut dick and smooth guys
Most of the vids are mobile compatible
3 updates added every week
Cons
Many older videos not 4K
Oldest vids small, not mobile compatible
Comments Rating
( reviews)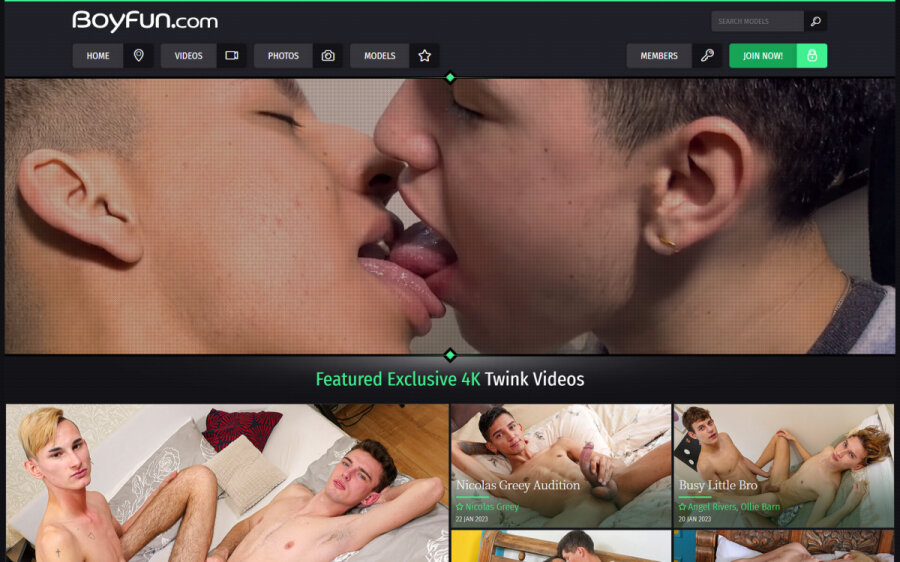 BoyFun is an enthralling twink site which has been operating since 1999. It started adding videos in 2005 and has become one of the largest and longest-running sites of its kind. The website remains active with updated content and various twinks engaging in hardcore and solo action. It has been over a year since the last review, so let's take a look.
Most models featured on the site are aged between 18 and 24 and come from a range of backgrounds. There are twinks, jocks, amateurs and normal guys, with some making their porn debut. While smooth bodies are the norm, there are some hairy guys and a few with tattoos. Most performers are Caucasian, but there are also some Black or Latino models. A glance at the recent uploads reveals guys from the Czech Republic, Russia, Ukraine, Venezuela, and Colombia. Additionally, there are numerous porn regulars from Europe and beyond, most with uncut cocks.
The latest collection of updates at this website features a range of bareback duos, threesomes and solo jack-off audition videos. Most of the guys featured are between 18 and 21 years old and they can be seen engaging in passionate kissing, rimming and blowjobs as well as some rough sex featuring hair pulling. The videos show the guys ejaculating on their own bodies, their partners' bellies, chests and faces.
One episode, "Late Cummer", follows a Croatian tourist who has missed his train, and is approached by a Czech guy who takes him home for some hot sex.
In another episode, "Busy Little Bro", Ollie Barn is wanking away in his room when his room mate Angel Rivers tells him to be quiet. Ollie moves to Angel's bed and begins to stroke his face, leading to a passionate blowjob and some raw fucking. The pair finish off with a messy cumshot all over Angel's body.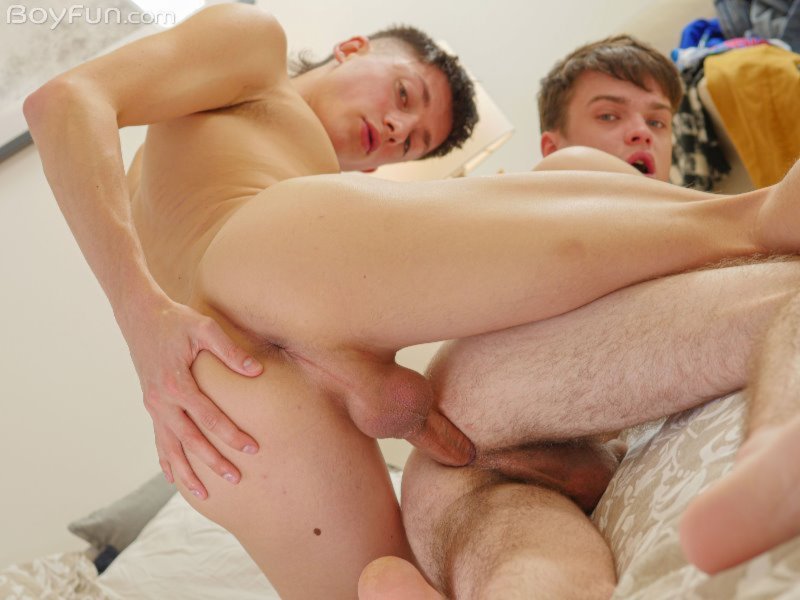 Site Video & Photos
BoyFun boasts an impressive 5,424 exclusive videos with the latest videos being offered in three sizes – 852×480, 4K at 3840×2160, and quality that is suitable for larger monitors. Older videos are in two sizes (320×240/640×480) and these look decent when viewing on a phone, but enlarging them on a desktop monitor does not have the same quality. The oldest 400 videos are only available in 320×240 size, and are broken up into clips (up to six, normally two or three). Streaming is offered for the newer videos, and the recommendation is to go with a higher resolution if the videos are to be seen on a full-screen. There have been suggestions that the BoyFun team are in the process of remastering these videos for streaming, however this has been mentioned for the past 13 months, so there is no information on how quickly this is being done.
Additionally, there are 8,771 photo sets in the BoyFun members area. The newest images are of digital quality at 2250×3000 and resize to fit the screen the viewer is on. There is the option to save the pictures individually or in both high-res and low-res zip files, with the low-res pictures being at 1125×1500. The oldest pictures are sized at 512×768, with the high-res and low-res zips being the same size. The slideshow feature enables auto browsing, while the forward and back controls enable easier navigation.
Members of BoyFun also get access to a bonus site called FreshmanX, which no longer updates but still offers 528 videos and 528 picture sets, which are worth checking out. Joining this site separately is not possible, so the only way to view its content is through BoyFun.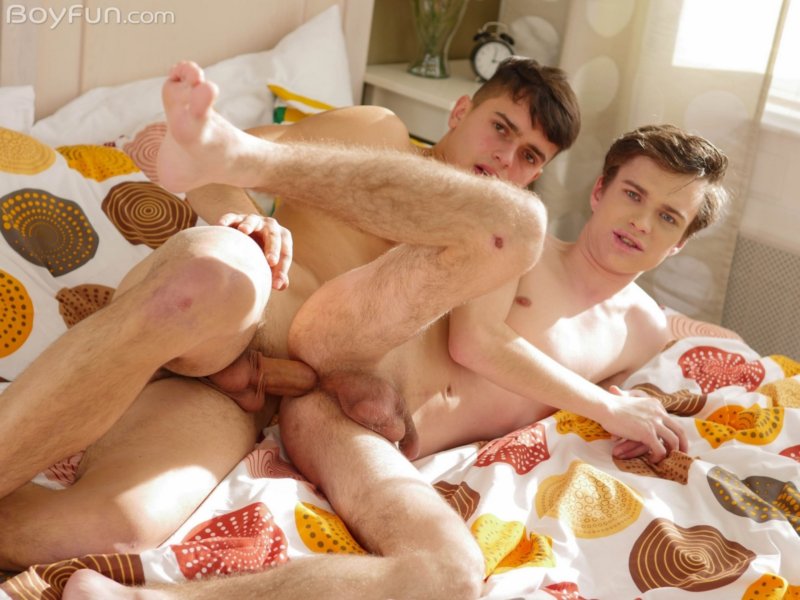 Site Issues
It's common to see a pre-selected offer on the billing page, which may look greyed out and unclickable. However, do not worry, as you may choose to decline the offer and select the option of 'No thanks'. The non-recurring 30-day membership is priced $15 higher than the recurring option. On the members homepage, you will notice a row of thumbs of male models, which link to a live cam website. Unfortunately, the oldest videos on the website cannot be streamed, and since they are only offered in WMV format, they are not suitable for Mac or mobile devices. Even so, there are various larger and mobile compatible videos available, so there is no need to be concerned.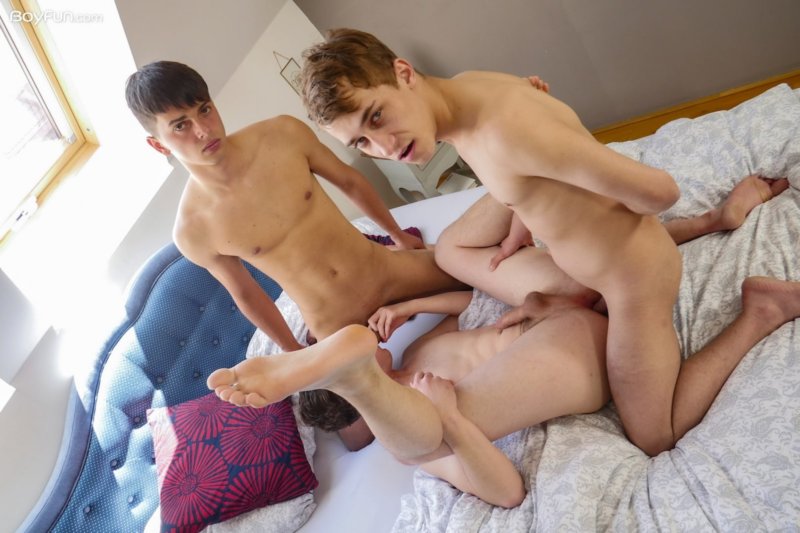 Membership Cost of BoyFun
Monthly: $29.85 (recurring every 30 days)
Monthly: $44.95 (30 days, non-recurring)
Half Year: $129.95 (recurring every 180 days)
Yearly: $199.95 (recurring every 365 days)
Review Summary
BoyFun is the place to go for a variety of twinks, jocks, and amateur models aged 18 to their early twenties from across the globe. You can expect to find a mix of hardcore bareback duos, threesomes and solo auditions, with 5,424 exclusive videos, 8,771 photo sets, and three new weekly additions. In addition, members get access to 528 vids from the bonus site FreshmanX, extra videos and feeds, all featuring uncut dicks of hot younger guys from 18 to 24.